11-01-2020 | Original Empirical Research | Issue 4/2020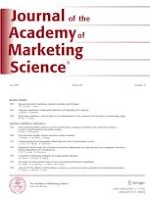 Chief marketing officer presence and firm performance: assessing conditions under which the presence of other C-level functional executives matters
Authors:

Pravin Nath, Neeraj Bharadwaj
Important notes
V. Kumar served as Area Editor for this article.
Publisher's note
Springer Nature remains neutral with regard to jurisdictional claims in published maps and institutional affiliations.
Abstract
This research extends understanding of the relationship between chief marketing officer (CMO) presence and firm performance by investigating how it is affected by the presence of three other functional heads (or CXOs) under various environmental and strategic contingencies. Results based on a panel of 401 U.S. manufacturers reaffirm the positive CMO presence–firm performance relationship and establish that the linkage is (a) strengthened by chief sales officer presence when industry sales volatility is high, (b) strengthened (weakened) by chief technology officer presence when industry innovation and firm differentiation (cost leadership) are high, and (c) strengthened (weakened) by chief supply chain officer presence when firm diversification (differentiation) is high. The study: expands top management team research by investigating executive dyads formed by the pairing of heads of functions advocated in the organizationally embedded view of marketing; delineates CXOs' roles and orientations to clarify mechanisms that aid or hamper the CMO; and, identifies industry and firm-level contexts that affect the CMO–CXO interfaces. Additionally, the findings underscore the importance of appointing CMOs and, of CMOs spanning organizational silos.