16-07-2019 | Issue 2/2020 Open Access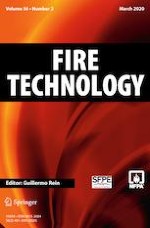 Comparative Room Burn Study of Furnished Rooms from the United Kingdom, France and the United States
Journal:
Authors:

Matthew S. Blais, Karen Carpenter, Kyle Fernandez
Important notes
Electronic supplementary material
Publisher's Note
Springer Nature remains neutral with regard to jurisdictional claims in published maps and institutional affiliations.
2

Experimental

A total of 9 room burns were performed for three different furniture configurations, each configuration corresponding to the source of the furnishings (France, United Kingdom, US). The ISO 9705 rooms have interior dimensions of 2.44 m wide by 3.66 m deep and 2.44 m high with interior surfaces lined with type x gypsum board. The test matrix in Table

1

shows the specific condition for each burn experiment detailing the source of the furniture and television and the ignition source size for the experiment. In addition to the 3 cushion couch, chair and flat panel television, each room was fitted with an identical coffee table, end table, curtain, and bookcase obtained from Walmart plus 12 kg of books. Figure

1

is a Solid Works© scale model of the room layout. All of the furniture is to scale and represent exact locations of each item. All rooms were meticulously set-up to ensure comparability of results. The furniture arrangement in the room was not based on a specific standard but was selected to conveniently fit the contents. The lab technicians were allowed to place the furniture in what they thought was the best functional arrangement. Once selected, all subsequent rooms were set up identically with location of items within ± 1 cm of the original setting. Dimensions of furniture and room layout are provided in the supplemental information.

Table 1

Testing Matrix for the Nine Room Burns Listing Room Configurations And Ignition Sources with Assigned Test Number and Label for All Subsequent Data and Mass of Test Items
| Test number | Country source | Ignition source | Data labels | Couch weight (kg) | Chair weight (kg) | FPD TV weight (kg) |
| --- | --- | --- | --- | --- | --- | --- |
| 1 | United Kingdom (GB) | Crib 4 | GB-1 | 60.6 | 35.8 | 17.2 |
| 2 | France (FR) | Crib 4 | FR-1 | 61.5 | 36.5 | 14.7 |
| 3 | Unite States (US) | Crib 4 | US-1 | 59.6 | 34.5 | 17.2 |
| 4 | GB | Crib 5 | GB-2 | 60.8 | 35.2 | 17.2 |
| 5 | FR | Crib 5 | FR-2 | 61.0 | 37.0 | 14.7 |
| 6 | US | Crib 5 | US-2 | 59.9 | 34.2 | 17.5 |
| 7 | GB | Crib 6 | GB-3 | 60.8 | 35.4 | 17.2 |
| 8 | FR | Crib 6 | FR-3 | 60.8 | 36.5 | 14.7 |
| 9 | US | Crib 6 | US-3 | 60.5 | 34.7 | 17.5 |
×
Couches were identical models purchased at IKEA stores in the countries of France, United Kingdom and US. All were purchased in September of 2018 and were the identical model but manufactured to the requirements of the markets where purchased. All of the couches and chairs were the Ektorp 3 seat couch and chair, both Lafollette Beige. Flat panel televisions (FPD) were purchased from electronic stores in the three countries, all were 1.4 m (55 inch) Samsung FPD LED models of as similar design as possible. All appeared to be identical. A sample picture of the couch, chair and television can be seen in Figure
2
. Table
2
shows the potential fire retardant elemental analysis. Samples were excised from test article; samples were taken from the plastic casing of the FPD and from all cushion fill materials. Samples were microwave digested with nitric acid, then analyzed via inductively coupled plasma –atomic emission spectroscopy (ICP-AES) for phosphorus (P), and antimony (Sb). Ion Chromatography was used to analyze for Cl and Br. All of the television cases appear to contain phosphorus-based Fire Retardants.
Table 2
ICP-AES-the LOQ for Sb was 4.9 mg/kg and P was 189 mg/kg with a Precision of ± 25% RSD at the Detection Limit. Cl and Br were Analyzed by Ion Chromatography and had LOQ of 58 ppm
| Sample | mg/kg Cl | mg/kg Br | mg/kg P | mg/kg Sb |
| --- | --- | --- | --- | --- |
| French TV plastic casing | ND | 98.9 | 8610 | 10.4 |
| French couch cushion loose filling | 135 | ND | ND | 189 |
| French couch cushion foam | 1880 | ND | ND | ND |
| British TV plastic casing | ND | ND | 11,600 | ND |
| British couch cushion loose filling | 168 | ND | ND | 191 |
| British couch cushion foam | 831 | ND | 6160 | ND |
| US TV plastic casing | ND | ND | 13,800 | ND |
| US couch cushion loose filling | 2760 | ND | ND | ND |
| US couch cushion foam | ND | ND | ND | ND |
×
Ignition sources used were purchased from Carr Wood Tech, Mesa Arizona and isopropyl alcohol was purchased as technical grade from Fischer Chemicals.
All experiments were performed in a large oxygen consumption calorimeter that was calibrated before this program. The precision of measurement for the heat release rate (HRR) is ± 7%. Smoke density was measured with a laser light source and a photo multiplier tube mounted to the ventilation hood exhaust duct. This method gave a precision of measurement 0.1% reported as an opacity in m 2/s as the cross section area and linear flow of the duct. All rooms were equipped with a thermocouple tree located with thermocouples at 0.5, 1.0, 1.5, 2.0 and 2.5 m in height in the center of the room.
Each burn was started with the ignition source placed in the center of the middle seat cushion with the vertical surface of the source in contact with vertical back cushion. Orientation of the ignition source was the same in all tests. The isopropyl alcohol, 1.4 ml, was applied to the crib 30 s before being placed on the couch and ignited with a propane lighter.
There were two gas sample collection points for each room burn. Each was attached to a separate 4 m, 150°C heated sample transfer lines constructed of 4.6 mm ID PTFE tubing and a Thermo Fischer 2 m path length gas cell. Analysis was performed by a Thermo Fischer iS50 FTIR using a liquid nitrogen cooled DTGS detector. Sampling probes were SS316 stainless steel, 4.6 mm ID tubing. Sample flow rate was 1.688 Pa*m 3/s. The first collection point was from the doorway center at a height of 1.52 m. The second collection point was from the center of the room at a height of 0.457 m. Calibration of the instruments was performed using NIST traceable analytical standards to achieve lower than a 10 ppm limit of detection with an analytical precision of ± 5 ppm for most gases. Carbon Dioxide had a detection limit of 500 ppm ± 250 ppm. The lower precision of carbon dioxide is driven by the extreme range of detection of 500 to 200,000 ppm plus a normal background of 343 ppm. The error of measurement for carbon monoxide (CO) is ± 20 ppm at 4998 ppm, the highest NIST traceable calibration standard used. Actual values seen for CO are 6 to 12 times higher than the highest standard and therefore have greater error. As a result CO values were only reported to 3 significant figures. All of the FTIR data in this study that exceeds the highest calibration standard are reported to 3 significant figures to account for potential greater measurement error.
Start of ignition corresponds with the zero time of the calorimeter and the 2 min time of the FTIR data. FTIR data have an additional 20 s offset with the time of the data from the calorimeter. The FTIR captured a summed scan of 7 spectra every 9 s over the duration of the test.
Sampling for volatile organic compounds (VOC) was performed using EPA method TO-15. Collection was performed using Summa canisters which collected 6.0 L of gas over a period of 30 s through a 4 m, 150°C heated sample line. All VOC samples were collected via sampling probes that were SS316 stainless steel, 4.6 mm ID tubing. Probes were located at 1.52 m in the center of the doorway. Two Summa™ canisters were collected for each test. The first sample was collected when the white smoke started to exit the door frame, and the second was collected when the dark smoke exited the door frame. Samples were sent to an ISO 17025 and NELAC certified analytical laboratory and analyzed within 24 h. Concentration is reported as parts per billion volume/volume (ppb).
Semi-volatile organic compounds (SVOC), and chlorinated and brominated dioxins and furans were collected through the same sampling lines as the VOC using XAD resin solid sorbent collectors. EPA method 8290a was used for PAH/SVOC and Method 23 was used for Dioxins and Furans. Continuous sampling with the XAD trains was performed from ignition till extinguishment of the first test for each country's configuration. Subsequent tests for each country had the XAD sampling run from ignition to the appearance of black smoke. The collection was then switched to a second sampling train that collected from the appearance of black smoke till the end of the test. Sampling rate was 3.376 Pa*m 3/s. Analysis of all samples was performed by an EPA certified analytical laboratory, the Analytical and Environmental Chemistry Laboratory of Southwest Research Institute.
The study was originally designed to do incremental ignition on each couch starting with crib 4. If the couch failed to ignite then crib 5 would be applied to the couch with the middle seat and back cushions inverted. If the couch failed to ignite then a fresh location (un-scorched) would be ignited with crib 6. However, all couch types ignited with crib 4. As a result each country configuration was initiated with crib 4 for the first three experiment. Crib 5 was used for the second three experiments and crib 6 for the third three experiments. This allowed for a direct comparison of each country to a specific ignition source and the impact on ignition source size on the rate at which an individual country furniture type burned. Crib 4 approximately equals 125 W, crib 5 is approximately 250 W, and crib 6 is approximately 900 W. As a reference to a real-life source, Crib 6 equals 2 pages of double sheet full-size newspaper [
7
]. Cribs 4, 5 and 6 can be seen in the Figure
3
.
×
4

Conclusions

In this study the most fire retarded furniture burned more slowly and produced less acutely toxic smoke and less total smoke than the furnishings with poor protection from fire. This is logical as more mass is consumed during the oxygen deficient period of the burn when highly toxic black smoke is produced as a result of incomplete combustion. Low levels of oxygen are indicated by the high concentrations of CO and HCN, produced in significantly higher yields during under ventilated flaming. The French and US room configurations were less fire retarded and produced more total black smoke containing more and higher molecular weight PAH, as shown in the SVOC data. The VOC data also supported this trend for benzene, toluene and acrolein. The smoke from the British configuration was less acutely toxic than the US and French configurations for at least 20 min into the burn, Table

3

. This also was true for PAHs and chlorinated dioxins and furans for chronic toxicity, Tables

5

and

6

. The British configuration rooms also produced approximately half of total smoke, Table

3

, compared to the French and US configuration rooms. However, the chronic toxicity of the smoke is outside of the scope of this paper.

Comparison of the heat release data showed that the British configuration is significantly less flammable than either the French or US configurations, which appear to be nearly identical in performance, Figures

4

,

5

and

6

, and Table

2

. The work of Steinhage and Mierlo at Efectis supports this conclusion reporting the high heat release of individual sofas from United Kingdom is delayed by 15 to 20 min [

19

]. The British configuration produced less energy, had a lower pHRR, and delayed the pHRR by a factor of 5. This affords as much as 5 times the escape time for a fire in this configuration as well as time for the fire department/brigade to respond. Based on fire department response standards in the US [

20

], it is likely that a fire with this much delay could be extinguished before the structure is lost as well as allowing additional time for occupants to evacuate.

France and the United States currently require smolder only fire test standards for home furniture. The United Kingdom requires testing to a series of ignition sources, both smoldering and open flame. This study illustrated that the UK standard does provide a significantly better performance for an identical size and shaped couch based on pHHR, time to pHHR, time to peak smoke, and total smoke. In addition, the chemical composition of the smoke generated in the room burns featuring UK furniture were less acutely toxic based on HCN and CO emission and the chronic toxicity appears to be less based on the lower molecular weight and lower concentration of PAH produced. These results directly contradict results published by McKenna et al. [

9

]. The condition of the test do affect the results. It is critical to test under realistic conditions to be able to predict the performance of materials in home fires. Future research needs to focus on more realistic room designs that mimic ventilation conditions seen in real homes. Rooms with less ventilation as seen in a closed door room and better ventilation as seen in rooms with windows that may shatter represent possible examples.

The results obtained in this study are dependent on the room size and ignition sources selected. The amount of fuel in these studies while fairly realistic result in much lower oxygen levels and greater pHRR. UL performed a study where only a chair was tested in a similar sized room using a smaller ignition source and obtaining much lower pHRR and smoke as well as very different toxicity results [

21

].
Acknowledgements
This work was Funded by the North American Fire Retardant Association and the American Chemistry Council.
Open Access
This article is distributed under the terms of the Creative Commons Attribution 4.0 International License (
http://​creativecommons.​org/​licenses/​by/​4.​0/​
), which permits unrestricted use, distribution, and reproduction in any medium, provided you give appropriate credit to the original author(s) and the source, provide a link to the Creative Commons license, and indicate if changes were made.
Publisher's Note
Springer Nature remains neutral with regard to jurisdictional claims in published maps and institutional affiliations.