10-08-2017 | Issue 11/2017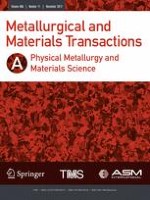 Comparison of SPS Processing Behavior between As Atomized and Cryomilled Aluminum Alloy 5083 Powder
Authors:

Frank Kellogg, Brandon McWilliams, Jennifer Sietins, Anit Giri, Kyu Cho
Important notes
Manuscript submitted April 26, 2017.
Abstract
Aluminum 5083 powder, both as atomized and cryomilled, was consolidated
via
spark plasma sintering (SPS). This study quantified and compared the effects of heating an aluminum alloy powder directly through Joule heating
vs
indirectly through thermal conduction from the die during SPS processing. When consolidated under the same processing conditions, the cryomilled powders showed faster heating rates and densification than the as atomized powder. It was also possible to process the cryomilled powder in a non-conductive die but not the as atomized powder. This could be ascribed to an improvement in electrical conductivity of the powder due to the break up and redistribution of surface oxides after cryomilling. The changes in behavior as a result of cryomilling and/or changing die material led to samples with different fracture morphologies and increased hardness values.