06-09-2018 | Issue 8/2019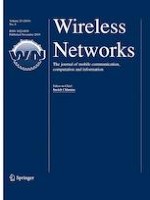 Cross-layer multipath routing scheme for wireless multimedia sensor network
Journal:
Authors:

Mohammed Abazeed, Norshiela faisal, Adel ali
Important notes
Electronic supplementary material
Abstract
Multimedia transmission in wireless multimedia sensor network requires restricted quality of services (QoS) conditions. Where the resource-constrained nature of wireless multimedia sensor network (WMSNs) adds more challenges. Such a situation demands a routing strategy that can ensure QoS transmission and exploit the resources efficiently. At present, the single-path routing techniques cannot guarantee the end to end QoS requirements of video transmission causing the video quality degradation. Besides, the traditional network layers stack is not suitable for dynamic wireless sensor network environment, where important information is required from nonadjacent layers to enhance the routing decision. This paper proposes the design of cross-layer multipath routing (CLMR) scheme in order to ensure QoS and minimize energy consumption. CLMR is designed to determine the suitable multipath and to send the multimedia packets according to their importance. The cross-layer design between application, network and physical layers is adapted to obtain optimal routing decision. The simulation results show that the CLMR has a significant improvement in performance as compared to other similar existing protocols, where the obtained average delay with high delivery is less than 150 ms, while the energy consumption is reduced, and the PSNR values for the tested clips are more than 30 db.