27-04-2020 | Issue 6/2020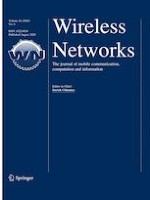 Design, analysis and characterization of four port multiple-input-multiple-output UWB-X band antenna with band rejection ability for wireless network applications
Journal:
Authors:

Vigneswaran Dhasarathan, Truong Khang Nguyen, Manish Sharma, Shobhit K. Patel, Sudesh Kumar Mittal, M. Thurai Pandian
Important notes
Vigneswaran Dhasarathan and Truong Khang Nguyen contributed equally to this work.
Publisher's Note
Springer Nature remains neutral with regard to jurisdictional claims in published maps and institutional affiliations.
Abstract
In this proposed research article, four-port dual notched bands multiple-input-multiple-output (MIMO) antenna configuration is proposed and is experimentally investigated by fabricating prototype. Initially, a single element is fabricated which is converted to 2 × 2 MIMO configuration and finally to 4 × 4 MIMO configuration. The proposed MIMO antenna is designed to cover impedance bandwidth of 3.15–11.36 GHz and hence is useful in applications for ultrawideband and X-Band applications. Two interfering bands, WiMAX (3.30–4.05 GHz) and WLAN (4.90–5.99 GHz) are eliminated by using an inverted T-shaped stub and C-shaped slot on the radiating patch of the MIMO antenna. The proposed MIMO antenna offers good diversity performance with envelope correlation coefficient < 0.02, directive gain > 9.95 dB and total active reflection coefficient ≤ 20 dB in the entire operating band. Also, antenna gain is stable in the entire operating band except in interfering bands with a maximum radiation efficiency of more than 80% and stable radiation pattern. All the above said features make the proposed antenna suitable for high-speed wireless network applications.