Published in: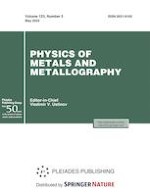 01-05-2022 | STRENGTH AND PLASTICITY
Development of Radiation Porosity in the Material of Fuel-Element Cladding Produced by Different Technologies for Fast Neutron Reactors and Its Influence on the Fuel Assembly Service Life in the BN-600 Reactor
Published in: Physics of Metals and Metallography | Issue 5/2022
Login to get access
Abstract
The dependence of the concentration of point defects in austenitic corrosion-resistant chromium-nickel steel (ChS68) on the characteristics of radiation porosity under neutron irradiation is studied within a statistical model of the migration of point defects. The results obtained are used to analyze the data of experimental determination of the characteristics of radiation porosity in ChS68 steel samples irradiated at various dose-temperature parameters. The critical diameters of vacancy void nuclei are calculated, and it is shown that, with an increase in the integral surface area of the voids, the concentration of point defects decreases, while the critical diameter increases. This leads to a multimodal void size distribution. Based on the experimental results obtained, within the model of the final stage of nonstationary swelling, the residual service life was calculated according to the criterion of the maximum allowable swelling of the fuel-element claddings under study.