03-07-2020 | Original Research | Issue 13/2020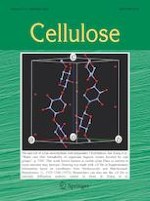 Novel superhydrophobic surface of cotton fabrics for removing oil or organic solvents from contaminated water
Journal:
Authors:

Ahmed S. Belal, M. M. A. Khalil, Moataz Soliman, Shaker Ebrahim
Important notes
Publisher's Note
Springer Nature remains neutral with regard to jurisdictional claims in published maps and institutional affiliations.
Abstract
Surface science such as superhydrophobic and superoleophilic surfaces plays a sensitive function in a separating oil/water mixture as a result of increasing industrial oil and organic solvents drainage occurrence. In this work, copper hydroxide nanoneedles layer were synthesized onto Egyptian cotton fabrics (CF) treated with polydopamine, Ag nanoparticles (NPs) and Cu NPs via facile immersion process. Fourier transform infrared, X-ray diffraction and scanning electron microscope (SEM) were used to investigate the functionalized surface of CF with copper hydroxide layer. SEM images confirmed that the modified membranes were rougher compared with pure surface of CF. The contact angle measurement emphasized the hydrophobicity of the modified membranes and it was found that the water contact angle has a value of 168°. The absorption capacity of the modified CF membrane was 10.1 g g − 1 for diesel oil and the separation efficiency of this modified surface was higher than 99%. It was noted that the flux in the case of low viscosity solvent as n-hexane was 72,172.9 Lm− 2 h− 1, while for the viscous oil as diesel was 14,460.3 Lm− 2 h− 1.
Graphic abstract
×