25-11-2019 | Production Process | Issue 1/2020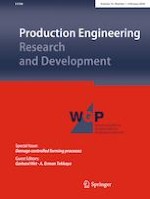 On mesh dependencies in finite-element-based damage prediction: application to sheet metal bending
Journal:
Authors:

Leon Sprave, Alexander Schowtjak, Rickmer Meya, Till Clausmeyer, A. Erman Tekkaya, Andreas Menzel
Important notes
Publisher's Note
Springer Nature remains neutral with regard to jurisdictional claims in published maps and institutional affiliations.
Abstract
The properties of a local and a regularised gradient-enhanced continuum damage model are highlighted and both types of models are applied to the simulation of an air bending process. Constitutive relations are summarised for both Lemaitre-type models and a brief description of their implementation into Abaqus user material subroutines is given. With (several) material parameters obtained from a basic parameter identification process, an air bending experiment is simulated with different mesh densities. By means of the damage evolution as well as the distribution of representative damage and hardening variables, the mesh dependence of the local model in contrast to the mesh independence of the gradient-enhanced model is analysed for two air bending processes with different die width.