17-01-2019 | Original | Issue 7/2019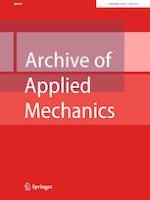 On the plane frictional contact problem of a homogeneous orthotropic layer loaded by a rigid cylindrical stamp
Journal:
Authors:

I. Comez, K. B. Yilmaz, M. A. Güler, B. Yildirim
Important notes
Publisher's Note
Springer Nature remains neutral with regard to jurisdictional claims in published maps and institutional affiliations.
Abstract
In this study, contact problem for a homogeneous orthotropic layer loaded by a rigid cylindrical stamp is considered. The rigid cylindrical stamp slides over the contacting medium whose bottom surface is fixed to the ground in all directions. Using the integral transformation technique, the contact problem is formulated analytically into a singular integral equation. The resulting integral equation is converted to algebraic equations by using Gauss–Jacobi integration formulas and solved numerically. In addition to the analytical formulation, a finite element method (FEM) study is also conducted. The results that are obtained using FEM are compared with the results found using analytical formulation. It is found that the results obtained from analytical formulation and FEM study are in good agreement with each other. The primary intention of this paper is to demonstrate the effects of orthotropic material properties, geometrical properties and the coefficient of friction on the stresses generated due to the sliding motion of the rigid cylindrical stamp. The results of this study may provide benchmark results for engineers to be used in tribology applications involving friction and wear mechanisms.