09-01-2019 | Original | Issue 7/2019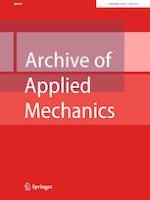 Nonlinear response analysis for an aero engine dual-rotor system coupled by the inter-shaft bearing
Journal:
Authors:

Zhenyong Lu, Xiaodong Wang, Lei Hou, Yushu Chen, Xiyu Liu
Important notes
Publisher's Note
Springer Nature remains neutral with regard to jurisdictional claims in published maps and institutional affiliations.
Abstract
This paper focuses on the nonlinear response characteristics of an aero engine dual-rotor system coupled by the cylindrical roller inter-shaft bearing. The motion equations of the system are formulated considering the unbalance excitations of the two rotors, vertical constant forces acting on the rotor system and the gravities. By using numerical calculation method, the motion equations are solved to obtain the nonlinear responses of the dual-rotor system. Accordingly, complex nonlinearities affected by the bearing radical clearance, the vertical constant force and the rotating speed ratio are discussed in detail. The jump phenomenon, hard resonant hysteresis characteristics are shown for a relatively large bearing clearance, and the soft resonant hysteresis characteristics can be observed for a relatively large vertical constant force. Moreover, the super-harmonic frequency components and the combined frequency components caused by the inter-shaft bearing are observed for both rotors. But the corresponding frequency components for the low-pressure rotor are more complex than that for the high-pressure rotor in same condition. These results would be helpful to recognize the nonlinear dynamic characteristics of dual-rotor bearing system.