17-03-2018 | Original Paper | Issue 9/2018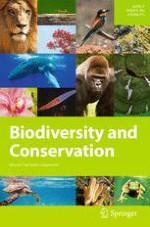 Simple pond restoration measures increase dragonfly (Insecta: Odonata) diversity
Journal:
Authors:

Alina Janssen, Holger Hunger, Werner Konold, Gesine Pufal, Michael Staab
Important notes
Communicated by David Hawksworth.
Electronic supplementary material
Abstract
Ponds are home to a diverse community of specialized plants and animals and are hence of great conservation concern. Through land-use changes, ponds have been disappearing rapidly and remaining ponds are often threatened by contamination and eutrophication, with negative consequences for pond-dependent taxa like amphibians or dragonflies (Odonata: Anisoptera and Zygoptera). Increasingly, restoration measures such as removal of shading terrestrial vegetation or submerged organic matter are implemented to counteract current threats, but how these measures affect the target taxa is rarely assessed. We tested if and how simple pond restoration measures affectionate diversity. We propose that pond restoration influences the light regime, which promotes aquatic and riparian vegetation important for different dragonfly life stages, thus increasing their diversity. Additionally, we assume that this changes dragonfly species composition between restored and unrestored ponds. We surveyed exuviae in the riparian and aquatic vegetation along the shore of 29 (12 restored, 17 unrestored) man-made ponds in southwest Germany and assessed environmental variables known to affect dragonfly diversity. We identified the cover of tall sedges and submerged macrophytes as the driving biotic variables for dragonfly diversity and species composition, with restoration measures affecting submerged macrophyte cover directly but tall sedges indirectly via available sunlight. This study demonstrates that simple restoration measures not only have a positive effect on overall dragonfly diversity, but also increase habitat suitability for several species that would otherwise be absent. We therefore propose dragonflies as a suitable flagship group for pond conservation.