29-06-2020 | Original Research | Issue 13/2020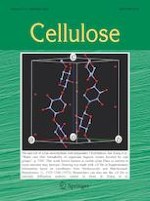 Sustainable cellulose-based hydrogel for dewatering of orange juice
Journal:
Authors:

Md. Shahidul Islam, Md Nur Alam, Theo. G. M. van de Ven
Important notes
Electronic supplementary material
Publisher's Note
Springer Nature remains neutral with regard to jurisdictional claims in published maps and institutional affiliations.
Abstract
A sustainable hydrogel fabricated from carboxymethylated modified cellulose crosslinked by epichlorohydrin was applied successfully for dewatering of orange juice. The obtained equilibrium water retention values of this hydrogel were 911, 143 and 82 g water/g hydrogel in distilled water, 0.9% NaCl solution and raw orange juice, respectively. The amount of water absorbed by the hydrogel dipped in orange juice depended on the juice/hydrogel weight ratio. With the use of a juice/hydrogel weight ratio of 200, the concentration of each nutrient increased by ~ 69%, which could be increased more with the use of lower weight ratio. The hydrogel showed good reswelling behavior, losing only ~ 5% of its capability to reabsorb water in orange juice when reused in three consecutive cycles. The reswelling property revealed the reusability of the hydrogel for dewatering of orange juices. This innovative process—dewatering of fruit juice by cellulose-based hydrogel—could also be applied for dewatering of apple juice, grape juice, pineapple juice, tomato juice, and coal fines and activated sludges.
Graphic abstract
×