20-07-2019 | Full Research Article | Issue 3/2019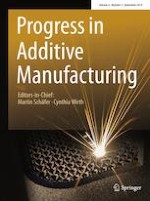 A parametric determination of bending and Charpy's impact strength of ABS and ABS-plus fused deposition modeling specimens
Journal:
Authors:

N. Vidakis, M. Petousis, A. Vairis, K. Savvakis, A. Maniadi
Important notes
Electronic supplementary material
Publisher's Note
Springer Nature remains neutral with regard to jurisdictional claims in published maps and institutional affiliations.
Abstract
This paper presents experimental results of standard three-point bending tests, for fused deposition modeling (FDM) specimens made of acrylonitrile–butadiene–styrene (ABS), as well as ABS plus. Both types of specimens were built with different building strategies. Furthermore, specimens of the aforementioned materials were subjected to standard Charpy's impact test. The Charpy's tests have been conducted using notched and unnotched specimens. Hereby, the flexural and impact strength of the specimens were quantitatively determined. Moreover, the findings of the implemented parametric analysis were discussed and correlated with the ones of the corresponding literature for bulk and FDM built materials. In addition, the fracture areas of the specimens were examined on a scanning electron microscope (SEM) to determine the failure patterns of the filaments' strands. The research findings proved that ABS and ABS-plus FDM-printed specimens exhibit inferior flexural strength and bending capacity when compared to the bulk material. Finally, the derived impact strength results proved that ABS and ABS-plus FDM-printed specimens display a decreased impact strength when compared with the ones of the corresponding bulk materials.