14-07-2020 | Issue 8/2020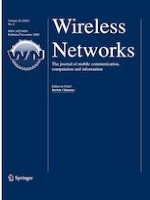 An efficient message broadcasting MAC protocol for VANETs
Journal:
Authors:

Zhiping Lin, Yanglong Sun, Yuliang Tang, Zhaohui Liu
Important notes
Zhiping Lin and Yanglong Sun are co-first authors; they contributed equally to this work.
This work was supported by the National Natural Science Foundation of China under Grant 61731012, Grant 91638204, and Grant 61371081.
Publisher's Note
Springer Nature remains neutral with regard to jurisdictional claims in published maps and institutional affiliations.
Abstract
Future vehicular communication systems must provide inter-vehicle communication to ensure driving safety, and broadcasting safety messages to neighboring vehicles is a critical strategy. However, due to high mobility and variable topology, collisions may occur in message broadcasting. Moreover, channel utilization is also a great challenge for protocol design in a large-scale vehicular network. In this paper, we propose a novel frame structure and then design an efficient messages broadcasting MAC protocol, which allows beacon and emergency messages to share the channel and thus saves bandwidth resources. By distinguishing the priority of these two types messages and setting channel resource preemption mechanism, the protocol greatly reduces message collision probability and meets the latency requirements. In addition, we use Markov model and birth-death process to analyze the performance of channel access and emergency latency, respectively. Finally, simulation results demonstrate the superior performance of the proposed protocol.