10-07-2020 | Issue 8/2020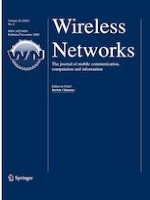 Augmenting network lifetime for heterogenous WSN assisted IoT using mobile agent
Journal:
Authors:

Harmeet Singh, Manju Bala, Sukhvinder Singh Bamber
Important notes
Publisher's Note
Springer Nature remains neutral with regard to jurisdictional claims in published maps and institutional affiliations.
Abstract
Wireless sensor networks are network of the large number of sensors having lesser batteries. Such networks and clustering of the nodes for energy efficiency go hand in hand. Clustering protocols like low energy adaptive clustering hierarchy, stable election protocol, improved low energy adaptive clustering hierarchy etc. allow the nodes to grouped together, form clusters and transmit their information to the base station via their leader, i.e. cluster head. Selection of cluster head follows various approaches and vary from protocol to protocol. While some of the approaches use single hop communication of the cluster head with the base station, others opt for multi-hop communication. This paper describes energy effective procedure for heterogeneous network consisting of super, advance and normal nodes. The protocol operates according to the type of the nodes. For the high energy super nodes, the protocol follows centralized procedure and for other nodes it follows decentralized approach. The selection of cluster head among the super nodes is optimized by the use of cost function depending upon distance of the nodes from the centroid of their residual energies and their signal to interference plus noise ratio. The nodes other than super nodes achieve lesser energy consumption by using the mobile agents to transfer their data to the base station. The proposed protocol has shown improvements in terms of throughput and number of dead nodes as equated to other state-of-the-art protocols.