28-03-2015 | Issue 1/2016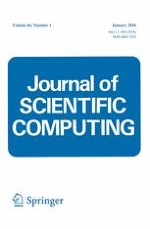 High Order Semi-Lagrangian Methods for the Incompressible Navier–Stokes Equations
Journal:
Authors:

Elena Celledoni, Bawfeh Kingsley Kometa, Olivier Verdier
Abstract
We propose a class of semi-Lagrangian methods of high approximation order in space and time, based on spectral element space discretizations and exponential integrators of Runge–Kutta type. The methods were presented in Celledoni and Kometa (J Sci Comput 41(1):139–164,
2009
) for simpler convection–diffusion equations. We discuss the extension of these methods to the Navier–Stokes equations, and their implementation using projections. Semi-Lagrangian methods up to order three are implemented and tested on various examples. The good performance of the methods for convection-dominated problems is demonstrated with numerical experiments.