28-05-2020 | Original Paper | Issue 4/2020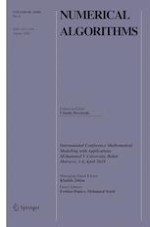 Leja, Fejér-Leja and
ℜ

-Leja sequences for Richardson iteration
Journal:
Author:

Moulay Abdellah Chkifa
Important notes
Publisher's note
Springer Nature remains neutral with regard to jurisdictional claims in published maps and institutional affiliations.
Abstract
We study Leja sequences on the unit disc and resulting mapped sequences to conventional domain, ellipses and real intervals, for the problem of relaxation of Richardson iteration. Using simple considerations, we establish upper and lower estimates for the growth of associated Newton polynomials and the so-called residual polynomials. These results broaden the understanding of such sequences and add to results established in Calvetti et al. (Numer. Math.
67
(1), 21–40,
1994
), Calvetti and Reichel (Numerical Algorithms
11
(1-4), 79–98,
1996
; J. Comput. Appl. Math.
71
(2), 267–286
1996
), Fischer and Reichel (Numer. Math.
54
(2), 225–242,
1989
), Nachtigal et al. (SIAM Journal on Matrix Analysis and Applications
13
(3), 796–825,
1992
), Reichel (SIAM J. Numer. Anal.
25
(6), 1359–1368,
1988
), Tal-Ezer (J. Sci. Comput.
4
(1), 25–60,
1989
). We also propose adaptive strategies for the selection of relaxation parameters that build on fast strategies (Balgama et al., Electron. Trans. Numer. Anal.
7
, 124–140,
1998
; Reichel, Linear Algebra and its Applications
154-156
(C), 389–414,
1991
) which are known to be suitable for the problem. In particular a Leja ordering is enforced on the mapped sequences. New strategies for conveniently confining the spectrums of certain matrices arising in PDEs discretization is described and demonstrate the flexibility of the Richardson iteration.