09-10-2018 | Methodologies and Application | Issue 19/2019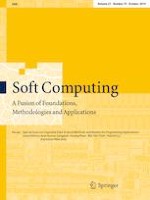 New operations on pseudo-octagonal fuzzy numbers and its application
Journal:
Authors:

F. Abbasi, T. Allahviranloo
Important notes
Publisher's Note
Springer Nature remains neutral with regard to jurisdictional claims in published maps and institutional affiliations.
Abstract
In engineering and social science fields such as sociology and psychology while treating the uncertainties of triangular and trapezoidal fuzzy numbers are not applicable and fuzzy numbers with more parameters and clear definitions of their arithmetic operations are needed. In order to fill this gap in the literature, in this paper we propose the new fuzzy arithmetic operations based on transmission average on pseudo-octagonal fuzzy numbers, which was already implied in Abbsi et al. (J Intell Fuzzy Syst 29:851–861,
2015
) in its rudimentary form and was finally presented in its fully fledged form in Abbsi et al. (J Fuzzy Set Valued Anal 2:1–18,
2016
). The properties of these propose operations and their fundamental qualities are discussed. Several illustrative examples were given to show the accomplishment and ability of the proposed method. We present a new method for fuzzy system reliability analysis based on the fuzzy arithmetic operations of transmission average, where the reliabilities of the components of a system are represented by pseudo-octagonal fuzzy numbers defined in the universe of discourse [0, 1]. The proposed method has the advantages of modeling and analyzing fuzzy system reliability in a more flexible and more intelligent manner. Finally, dissatisfaction of a vice training and further education of arbitrary university with two faculties is considered in fuzzy environment.