17-08-2019 | Issue 1/2020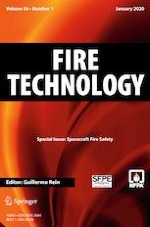 Opposed Flame Spread over Cylindrical PMMA Under Oxygen-Enriched Microgravity Environment
Journal:
Authors:

Chuanjia Wu, Xinyan Huang, Shuangfeng Wang, Feng Zhu, Yongli Yin
Important notes
Electronic supplementary material
Publisher's Note
Springer Nature remains neutral with regard to jurisdictional claims in published maps and institutional affiliations.
Abstract
The enriched oxygen ambient may be applied to China's next generation space station. To understand the fire behaviors under oxygen-enriched microgravity environment, flame-spread experiments on extruded poly(methyl)methacrylate (PMMA) rods with 10-mm diameter were conducted in the SJ-10 Satellite. The opposed flame-spread behaviors were studied at the oxygen-enriched ambient (33.5% and 49.4%) under low flow velocities in the range of 0 to 12 cm/s. After the ignition in the middle of the sample, an opposed flame spread was achieved, rather than the forward flame spread. The flame-spread rate increases with the opposed flow velocity, due to the decreased flame width and the enhanced flame heat flux. Moreover, a blue flame sheet with a frequent burst of bubbles is found throughout the opposed-flow spread process, showing a near extinction behavior. For the oxygen concentration above 25%, normal-gravity experiments suggest that whether PMMA is cast or extruded should have a negligible effect on the opposed flame spread in microgravity. Compared to normal gravity, the microgravity flame spread rate in the oxygen-enriched atmosphere is slower which is the order of 0.1 mm/s, only one-tenth to one-fifth of that in normal gravity at the same nominal opposed flow velocity, and the acceleration of flame spread in microgravity by increasing oxygen concentration is also much smaller. This result suggests that (1) if the environmental gas flow is small, the fire hazard increased by raising oxygen level in microgravity space cabin can be much smaller than that on Earth; and (2) the fire risk of oxygen-enriched microgravity environment might be overestimated when a ground-based test method is employed to evaluate the burning characteristics of solid material.