09-07-2019 | Issue 2/2020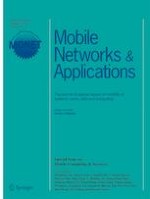 Prediction Based Vehicular Caching: Where and What to Cache?
Journal:
Authors:

Yao Zhang, Changle Li, Tom H. Luan, Yuchuan Fu, Hui Wang
Important notes
A preliminary version of this work under the title "Caching on Vehicles: A Lyapunov based Online Algorithm" has appeared in the proceedings of the 10th EAI International Conference on Ad Hoc Networks (ADHOCNETS 2018) September 20-23, 2018, Cairns, Australia.
Publisher's Note
Springer Nature remains neutral with regard to jurisdictional claims in published maps and institutional affiliations.
Abstract
The explosive growth of user demands for mobile data puts forward higher requirements for existing network architecture. In this case, many novel technologies, such as edge computing, ultra-dense network (UND), are recently proposed to alleviate the network burden of cellular macro base stations (MBSs). However, their performance is limited by dynamic user requests and uncertain user mobility since they highly rely on the fixed infrastructure. Along with the advent of autonomous driving era, autonomous vehicles possess strong computing and communication ability, which provide a new idea to resolve the limitation of infrastructure based network architecture. In this paper, we exploit the performance of a vehicular caching scheme where the role of moving vehicles is changed from service consumers in traditional networks to service providers and service consumers. As such, a prediction based vehicular caching scheme is proposed. Specifically, an optimization problem is firstly formulated by exploring the relationship of caching vehicles and mobile users, in order to optimize the network energy efficiency. The nonconvex optimization problem is solved by decomposing it into a nonlinear programming problem. By applying the Lyapunov method and autoregressive neural network (ANN), an online caching decision algorithm is finally proposed to make caching decisions. Extensive simulations are conducted to evaluate the caching scheme in different scenarios. Results show that the vehicular caching scheme can obviously improve network energy efficiency with different requests, but the increment is reduced under the scenario of intensive requests. The comparison between online and offline caching also shows the necessity of online caching decision making due to its benefit in resource utilization where system gain is increased from 8.4
%
to 59.24
%
.