05-02-2021 | Original Paper | Issue 3/2021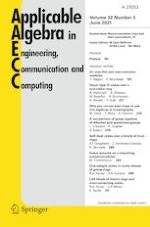 Rings whose (proper) cyclic modules have cyclic automorphism-invariant hulls
Authors:

M. Tamer Koşan, Truong Cong Quynh
Important notes
Publisher's Note
Springer Nature remains neutral with regard to jurisdictional claims in published maps and institutional affiliations.
Abstract
The object of this article is associate to automorphism-invariant modules that are invariant under any automorphism of their injective hulls with cyclic modules and cyclic modules have cyclic automorphism-invariant hulls. The study of the first sequence allows us to characterize rings whose cyclic right modules are automorphism-invariant and to show that if
R
is a right Köthe ring, then
R
is an Artinian principal left ideal ring in case every cyclic right
R
-module is automorphism-invariant. The study of the second sequence leads us to consider a generalization of hypercyclic rings that are each cyclic
R
-module has a cyclic automorphism-invariant hull. Such rings are called right
a
-hypercyclic rings. It is shown that every right
a
-hypercyclic ring with Krull dimension is right Artinian.