16-01-2020 | Original Empirical Research | Issue 4/2020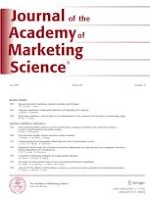 Salesperson social media use in business-to-business relationships: An empirical test of an integrative framework linking antecedents and consequences
Authors:

Fabian Bill, Sven Feurer, Martin Klarmann
Important notes
Electronic supplementary material
Vikas Mittal served as Area Editor for this article.
Publisher's note
Springer Nature remains neutral with regard to jurisdictional claims in published maps and institutional affiliations.
Abstract
This study presents an empirical test of an integrative framework based on the Unified Theory of Acceptance and Use of Technology, capturing what drives salesperson social media use in business-to-business relationships and under which circumstances social media use affects customer loyalty. The authors test the framework by drawing on a unique hierarchical dataset with data from three sources (over 30 sales managers, over 150 salespeople, and almost 400 customers). The most important finding is that the social media's effect on customer loyalty depends strongly on the context. Salesperson social media use increases customer loyalty only for high-status customers and customers with small buying centers.