Published in: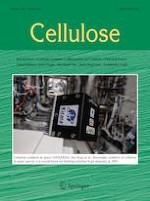 24-01-2022 | Original Research
Stress-transfer analyses in cellulose nanofiber/montmorillonite nanocomposites with X-ray diffraction and chemical interaction between cellulose nanofiber and montmorillonite
Published in: Cellulose | Issue 5/2022
Login to get access
Abstract
Cellulose nanofiber is a promising material because of its eco-friendliness, high mechanical performance, and high functionality. Nanocomposites with cellulose nanofiber matrices and inorganic nanofillers also possess excellent mechanical properties owing to the reinforcement effects of the nanofillers. The mechanical reinforcement effects largely depend on the interfacial interaction between nanofillers and cellulose matrices, and the nanofiller dispersion in nanocomposites. It has been difficult to evaluate the reinforcement effects of loading fillers in nanocomposites, which was desirable for cellulose composites of material design in industrial use. In this study, we used nanocomposites of cellulose nanofibers and montmorillonite with various surface properties. Their mechanical properties were investigated through tensile tests, and the stress transferred to the nanofillers in nanocomposites with 2 × 2 combinations of cellulose nanofibers, and nanofillers were analyzed using X-ray diffraction method. A strong correlation between the Young's modulus and the stress-transfer coefficients was revealed. Particularly, the composites of TEMPO-oxidized cellulose nanofibers, and ion-exchanged montmorillonite possessed the highest Young's modulus and the largest stress-transfer coefficients. The large mechanical reinforcement effect of the loaded montmorillonite filler was observed and attributed to the electrostatic interaction of the interface between the cellulose matrix and the montmorillonite filler.
Graphical abstract
×