23-11-2019 | Quality Assurance | Issue 1/2020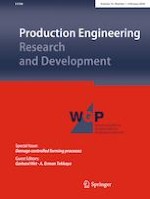 Efficient characterization tools for deformation-induced damage at different scales
Journal:
Authors:

Carl F. Kusche, Anthony Dunlap, Felix Pütz, Chunhua Tian, Christoph Kirchlechner, Anke Aretz, Alexander Schwedt, Talal Al-Samman, Sebastian Münstermann, Sandra Korte-Kerzel
Important notes
Publisher's Note
Springer Nature remains neutral with regard to jurisdictional claims in published maps and institutional affiliations.
Abstract
In modern multiphase materials, damage initiation and growth during plastic deformation is a commonly observed and technologically relevant process. To reliably assess the state of damage in a specimen or, ultimately, a formed product, precise and comparable damage quantification is required. Furthermore, the key to understanding the initiation and evolution of voids in such materials is the characterization of the initiating microstructural mechanisms in a statistically relevant way over a large number of damage sites. In this work, we present the results of large-scale scanning electron microscopy methods for automated damage recognition and analytical characterization, together with a concept for joining the available void size statistics to micromechanical experiments such as micro-cantilever tests. These tests are able to determine a critical crack length for various types of void initiation processes, leading to an improved understanding of the consequences of ductile damage evolution and void growth, and their subsequent interaction leading to material failure. In this way, a framework for quantification and high-resolution characterization of damage mechanisms is constructed, enabling new insights on damage evolution in forming processes.