03-07-2020 | Original Research | Issue 13/2020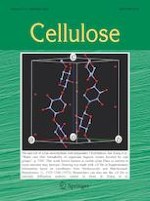 Cellulose nanocrystal reinforced poly(lactic acid) nanocomposites prepared by a solution precipitation approach
Journal:
Authors:

Changxin Li, Ce Sun, Chengyu Wang, Haiyan Tan, Yanjun Xie, Yanhua Zhang
Important notes
Electronic supplementary material
Publisher's Note
Springer Nature remains neutral with regard to jurisdictional claims in published maps and institutional affiliations.
Abstract
The difficulty of dispersing cellulose nanocrystals (CNCs) in poly(lactic acid) (PLA) was still a primary obstacle to enhance the properties of PLA nanocomposites. In this work, two different methods were used to modify CNCs that were then added dropwise and mixed with the PLA solution to conveniently obtain the composites. Transmission electron microscopy and Fourier transform infrared spectroscopy were used to characterize CNCs before and after modification. Ultraviolet–visible spectroscopy, tensile tests, differential scanning calorimetry, and thermogravimetric analysis were used to characterize the PLA nanocomposites. The results revealed that the CNCs that were modified with surfactant had better dispersion and thermal stability in the PLA nanocomposites. The Young's modulus and strength of PLA/SCNC nanocomposites were significantly reinforced (up to 66.0% and 29.8%, respectively). Meanwhile, the transmittance remained above 60% in the visible range. The solution precipitation approach was effective and simple, which could be used with other polymers.
Graphic abstract
×