25-01-2019 | Research Article | Issue 1/2019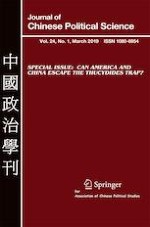 Introduction: Can America and China Escape the Thucydides Trap?
Journal:
Authors:

Chunman Zhang, Xiaoyu Pu
Abstract
Can China rise peacefully? Will China and the United States go to war? As U.S. and China face rising tensions in trade, technology, cyberspace, and the South China Sea, etc., scholars are concerned about the future of the Sino-U.S. relationship. In history, the relationship between a rising power and a hegemonic power often ends up with severe conflicts, even wars. The main reason is probably the Thucydides Trap, which Graham Allison defines as the severe structural stress caused when a rising power threatens to upend a ruling one. This special issue invite scholars from China, U.S. and other countries to examine the theoretical mechanisms and policy implications of the Thucydides Trap. Each of these articles in this special issue examines unique problems and makes original contributions to our understanding of the Thucydides Trap and U.S.-China relationship. Most authors in this special issue believe that the Thucydides Trap provides a useful lens for studying the China-U.S. relationship in spite of some reservations. This special issue addresses two broad questions: First, how can one construct a thick and comprehensive understanding of the Thucydides Trap? Second, how to analyze, examine and even predict the tensions, problems and future of the Sino-U.S. relationship? There is no doubt that the current relationship between the two has deteriorated to an extent that old paradigms of conflict resolutions seem to be obsolete. Although it's difficult to predict the future of Sino-U.S. relations, both countries especially political leaders can search for new paradigms to escape the Thucydides Trap. America and China are not destined for war, but destined for an uncertain future.