2015 | OriginalPaper | Buchkapitel
A Multi-valued Coarse Graining of Lempel-Ziv Complexity and SVM in ECG Signal Analysis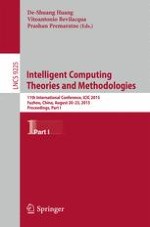 Erstes Kapitel lesen
Autoren: Deling Xia, Qingfang Meng, Yuehui Chen, Zaiguo Zhang
Abstract
Lempel-Ziv (LZ) complexity method has been widely applied to detection ventricular tachycardia (VT) and ventricular fibrillation (VF). The coarse-graining process (Quantization levels,
\( L \)
) plays an important role in the LZ complexity measure analysis. In this paper, we present a multi-valued coarse-graining process approaches (
\( L > 2 \)
), our test shows that this algorithm is superior to the two-valued coarse-graining of LZ complexity approaches (
\( L = 2 \)
) in VT and VF separation. Furthermore, we used support vector machine (SVM) classifier to discriminate VF and VT. Using the complexity as a feature to input classifiers can significantly improve the classification results. Particularly, optimum performance is achieved at a 4-second length.