2016 | OriginalPaper | Buchkapitel
4. A Network-Theoretic Approach to Collective Dynamics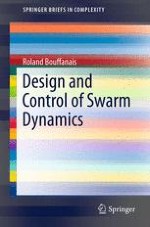 Erstes Kapitel lesen
Autor: Roland Bouffanais
Verlag: Springer Singapore
Abstract
Characterizing the dynamics of a swarm as we did in the previous two chapters is only one step toward understanding it. We also need to understand how local interactions influence the overall system's dynamics. The modern science of networks provides a very elegant and powerful framework—essentially grounded in graph theory—to bridge the gap between local dynamics and interactions at the agents level and global response at the swarm level. Indeed, network models offer a natural way of describing how self-organization arises in complex systems, which in turn helps us gain insight into dynamical processes occurring on them. Moreover, network science has a lot in common with statistical physics: percolation, scaling, order parameters, renormalization, self-similarity, phase transitions, and critical exponents were introduced in Chap.
3
in the context of swarm dynamics, and they remain highly relevant for a network analysis (Albert and Barabási, Rev. Mod. Phys., 74:47–97, 2002). As was noticed with our analysis of correlations of fluctuations in Chap.
3
, it can be really challenging to identify emerging patterns and their properties, especially for swarms lacking apparent order. Network theory provides yet another invaluable toolbox to uncover "hidden" structures emerging through self-organization.