2006 | OriginalPaper | Buchkapitel
A Real-time FEM Simulation for Cutting Operation using Haptic Device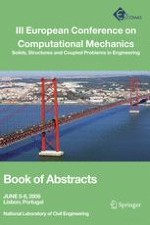 Erstes Kapitel lesen
Autoren: Tomoyuki Miyashita, Hiroshi Yamauchi, Masatomo Inui, Hiroshi Yamakawa
Verlag: Springer Netherlands
A Computational simulation for cutting of materials is one of the difficult problems mainly because of time consumable calculation of finite elements method. Especially, the boundary and loading conditions may change during simulation and re-mesh procedures are often necessary to adopt above situations. However, considering haptic device to obtain dynamical information from FEM analysis, it is difficult to apply the formal FEM procedures described above from the point view of response time. There were previous studies to propose the approximation procedures to omit remesh procedures and obtain the approximated dynamical response using FEM analysis within allowable computer resources. Recently, the computer power is gradually improved and then we can propose new approximation procedure to make full use of computer resources to treat the cutting simulation. The cutting simulation is useful to discuss about surgical simulation from the point of view of dynamical properties of human organs or tissue structure.
In this study, we will review the previous studies treating same problem using FEM analysis and propose the method to treat the cutting simulation considering real time computation and simulation results are directly transferred to the user through the haptic device. The hex and tetra elements were used to model the structure using FEM analysis and dynamical response was calculated using newmark method. Here, the elements matrix was normalized according to the distance between a cutting device and nodes to omit the re-mesh procedures. The proposed method was implemented using three threads that handle graphics for display, dynamical calculation and model construction to improve the response for user operation. Then, we have developed the simulation system composed of the haptic device (PHANToM force feedback device) using ToolKit and the proposed method including graphics animation.
Using the haptic device, we have been able to discuss about the obtained feeling through the device and obtain experimental results and compared from the points of view of the previous simple calculation method and the proposed method, the obtained reaction forces. We could confirm that the performances of the developed system using thread is very good and effective for the further improvement using detail calculation on FEM, the qualitative feelings and quantitatively obtained reaction forces are different among the compared method. Then, we could confirm the some properties and the effectiveness of the proposed method and the developed system.