2019 | OriginalPaper | Buchkapitel
2. A Trump Revolution?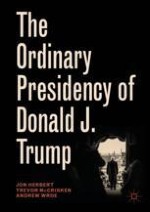 Erstes Kapitel lesen
Autoren: Jon Herbert, Trevor McCrisken, Andrew Wroe
Abstract
Trump's 2016 campaign invited a series of different readings. The outsider candidate emphasized that he was not beholden to other players, including his own party's leadership. His nationalist campaign promised a radical new agenda, focused on trade, law and order, economic rebuilding and immigration. Classic conservative policy positions and long-established bipartisan positions and values would be challenged. Trump the disruptor seemed likely to bring a different style of presidency. Would the disruptor also bring new techniques of governance as he had new techniques of campaigning? Given Trump's populist claim to a new base as a source of legitimacy, his ongoing relationship with his voters would surely be an important part of his attempts to lead. Trump, and his base, might prosecute class war against the establishment elite. A peasant march on Washington, complete with pitchforks, was a commonly deployed allusion. The insurgent Trump and his revolution might even undermine key democratic institutions in an empowering of the presidency. Observers read the Trump phenomenon in very different ways, but they were agreed on one thing. Trump's would not be an ordinary presidency. The purpose of this chapter is to establish the case that the rest of the book will argue against. In many ways, what is presented here is the "conventional wisdom" about the Trump presidency. And the conventional wisdom is that it is unconventional. Subsequent chapters tackle the conventional wisdom head-on, presenting contrary evidence and arguments to make the case that Trump's presidency should be viewed as ordinary.