2012 | OriginalPaper | Buchkapitel
Accessibility to Essential Services and Facilities by a Spatially Dispersed Aging Population in Suburban Melbourne, Australia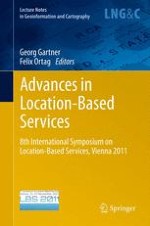 Erstes Kapitel lesen
Autoren: Gang-Jun Liu, Benno Engels
Verlag: Springer Berlin Heidelberg
Advances in microelectronics and the increasing use of digital mobile technologies associated with location based service (LBS) provision and consumption, have started to profoundly change the way we make decisions about when, how and where we do things. Microelectronics based modes of communication have extended our capacity to escape the 'spatial fix' that has constrained our ability to access and consume services outside the home environment in the past. In the mean time, spatially dispersed ageing population is becoming a challenging issue for public policy makers in many developed countries. Australia has opted to deal with this unprecedented ageing issue via an 'ageing in place' strategy, encouraging the elderly or seniors to live in their own housing for as long as possible, with only minimal support from public authorities. This strategy has been widely supported by the community. However, it poses a number of serious challenges for both policy makers and seniors alike. These include the issue of personal mobility and the ability to access those things that are deemed essential to ones well-being and quality of life from outside the home. The elderly or seniors are often identified as being subject to social exclusion because of difficulties associated with travelling outside their homes to access services and facilities, especially towards the outskirts of major urban centres, where services and facilities are generally only readily accessible by car. As drivers age and are required to surrender their driving licences, accessibility to a range of services and facilities either in their immediate neighbourhood or surrounding region will become a major issue especially in those locales where public transport infrastructure is inadequate.
To better understand the potential benefits that LBS based technologies have for the elderly members of our society, this paper presents an empirical assessment and visualisation of micro level manifestations of location disadvantage within residential suburbs of Melbourne using GIS-based spatial analytical procedures and fine spatial resolution data sets. The paper presents the spatial patterns of accessibility in terms of the shortest network distance travelled from residential locations to their nearest essential services and facilities, such as medical centre, pharmacy, bank, library, church, shopping centre, bus stop, train station, social club, etc. This spatially dispersed aging population lives in or on the outskirts of metropolitan Melbourne, and some of whom do not have ready access to a car or public transport service. This case study reveals that the existence of social exclusion amongst non-car driving seniors is being reinforced by a regional public transport system that can not adequately service the entire municipality, as too much reliance continues to be placed on the ownership and usage of cars.
The paper points out that there is a range of specific applications of LBS technology that can benefit the wellbeing of seniors, especially non-driving seniors; the next wave of retirees will be more technologically savvy and shall have fewer difficulties using the latest microelectronic devices that can disseminate LBS information; designers of LBS applications will need to take account of this development. The approaches taken and the findings made in this study should be useful to public policy makers, government and non-government service providers and developers of LBS applications in many countries who will all be confronted by this same policy problem within the next two decades.