2006 | OriginalPaper | Buchkapitel
Analysis of Creep Crack Initiation and Growth in Laboratory Specimens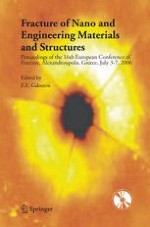 Erstes Kapitel lesen
Autor: K. Wasmer
Verlag: Springer Netherlands
In the power generation, petro-chemical and nuclear industries, predicting the life of aging equipment has become both a safety issue and an economic necessity. In order to perform such assessments, a number of in-house procedures, as well as national standards (e.g. BS7910 and R5) have been developed. These procedures use a deterministic approach based on certain assumptions and material properties. Depending on the procedures, methods and material properties used, significant variability in predictions can be observed. In such circumstances there is a need to develop statistical and probabilistic approaches in order to increase confidence in the application of the methods. However, it has been observed that statistical and probabilistic methods may over or under predict by factor over 100 creep crack initiation and growth (CCI and CCG, respectively). This is due to two main facts. Firstly, often data from laboratory specimens such as Compact Tension (CT) or C-Shape (C) is used to predict CCI and CCG in order to reduce the costs. Secondly, although the procedures adopt the same basic principles, often different formulae are employed to make an assessment. The main parameters that are used are reference stress,
σ
ref
, stress intensity factor,
K
, and the creep strain rate,
$$ \dot \varepsilon $$
, which are required to estimate the creep fracture mechanics term
C
*. Hence, first, it is necessary to select the best parameters in order to characterise as well as possible the creep crack initiation and growth behaviour in laboratory specimens as well as real components. This has already been done for some real components such as pipes and bent pipes subjected to internal pressure as well as plate subjected to bending stress for different materials [
1
]–[
3
]. In contrast, very little studies has been carried out to find the origin and the reasons as well as the parameters which makes that one set of parameters predicts well, for example, the CCI and/or CCG for one specific CT test and under or over estimates significantly another identical test apart from the applied load and this is the focus of this study.