2017 | OriginalPaper | Buchkapitel
9. Antibacterial Polymeric Membranes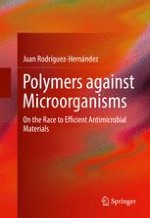 Erstes Kapitel lesen
Autor: Juan Rodríguez-Hernández
Abstract
Membranes have been typically defined as interfaces between two interfaces having as a major role to regulate the transport between two different compartment and act as selective barrier. Membranes are able to selectively allow the transport of one substance in the presence of other compounds without the use of additives or the use of elevated temperatures, thus reducing the energy consumption. They have found multiple applications in different areas ranging from separation processes but have also been employed in the fabrication of biomaterials, catalytic purposes, or even lab-on-chip devices.
Several major characteristics including the low operation cost, relatively small footprint, and complicity with environmental regulations have provoked that polymers have been extensively employed for the fabrication of membranes. Polymeric membranes do not require the use of additives. This permits these membranes to be active at low temperatures thus enabling a significant decrease of the energy employed for the separation in comparison with other processes. In addition, these membranes are easily formed and up-scaling and downscaling can be easily carried out.
This chapter will provide a brief description about polymeric membranes focusing on one of the major remaining issues, that is, their contamination by microorganisms and, in particular, by bacteria. Upon a concise analysis of the problem, the alternative approaches developed to produce antifouling/antibacterial membranes will be thoroughly analyzed. For detailed reviews on membrane fabrication and their applications, the reader is referred to the following publications.