2010 | OriginalPaper | Buchkapitel
Are Instant Messages Speech?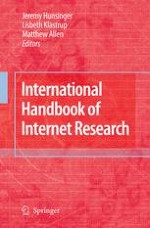 Autor: Naomi S. Baron
Verlag: Springer Netherlands
Abstract
Instant messaging (IM) is commonly viewed as a "spoken" medium, in light of its reputation for informality, non-standard spelling and punctuation, and use of lexical shortenings and emoticons. However, the actual nature of IM is an empirical issue that bears linguistic analysis.
To understand the linguistic character of IM, this article begins by considering differences between face-to-face speech and conventional writing. Because gender can affect language usage, we also review relevant gender-specific literature, both for speech and writing, as well as existing studies on the linguistic makeup of computer-mediated communication.
Our empirical study is based upon a collection of college student IM conversations gathered by the author and her students. We analyze these data with respect to message length issues, use of lexical contractions (e.g.,
don't
for
do not
), as well as chunking of IM turns into multiple transmissions that are sent seriatim. Our findings are compared with Chafe's notion of an "intonation unit," used for describing spoken discourse. Taken as a whole, the IM conversations were more akin to face-to-face speech than to conventional writing. However, when data were analyzed by gender, male IM more closely resembled speech, while female IM conversations conformed more to written norms.