2020 | OriginalPaper | Buchkapitel
Automated Software Measurement Strategies Elaboration Using Unsupervised Learning Data Analysis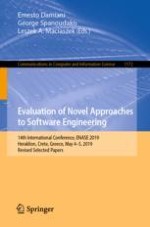 Erstes Kapitel lesen
Autoren: Sarah A. Dahab, Stephane Maag
Abstract
The software measurement becomes more complex as well as software systems. Indeed, the supervision of such systems needs to manage a lot of data. The measurement plans are heavy and time and resource consuming due to the amount of software properties to analyze. Moreover, the design of measurement processes depends on the software project, the used language, the used computer etc. Thereby, to evaluate a software, it is needed to know the context of the measured object, as well as, to analyze a software evaluation is needed to know the context. That is what makes difficult to automate a software measurement analysis. Formal models and standards have been standardized to facilitate some of these aspects. However, the maintainability of the measurements activities is still constituted of complex activities.
In our previous work, we conducted a research work to fully automate the generation of software measurement plans at runtime in order to have more flexible measurement processes adapted to the software needs. In this paper we aim at improving this latter. The idea is to learn from an historical measurements for generating an analysis model corresponding to the context. For that we propose to use a learning technique, which will learn from a measurements dataset of the evaluated software, as the expert does, and generate the corresponding analysis model.
The purpose is to use an unsupervised learning algorithm to generate automatically an analysis model in order to efficiently manage the efforts, time and resources of the experts.
This approach is well implemented, integrated on an industrial platform and experiments are processed to show the scalability and effectiveness of our approach. Discussions about the results have been provided.