Erschienen in: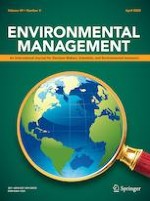 Open Access 16.04.2021
Blue–Green Infrastructure for Flood and Water Quality Management in Southeast Asia: Evidence and Knowledge Gaps
Erschienen in: Environmental Management | Ausgabe 4/2022
Abstract
In Southeast Asia, projections of rapid urban growth coupled with high water-related risks call for large investments in infrastructure—including in blue–green infrastructure (BGI) such as forests, parks, or vegetated engineered systems. However, most of the knowledge on BGI is produced in the global North, overlooking the diversity of urban contexts globally. Here, we review the literature on BGI for flood risk mitigation and water quality improvement in Southeast Asian cities to understand the scope of practical knowledge and identify research needs. We searched for evidence of local types of BGI in peer-reviewed and grey literature and assessed the performance of BGI based on hydrological, societal, and environmental metrics. The body of literature on BGI in Southeast Asia is small and dominated by wealthier countries but we found evidence of uptake among researchers and practitioners in most countries. Bioretention systems, constructed wetlands, and green cover received the most attention in research. Evidence from modelling and laboratory studies confirmed the potential for BGI to address flooding and water quality issues in the region. However, practical knowledge to mainstream the implementation of BGI remains limited, with insufficient primary hydrological data and information on societal and environmental impacts. In addition, the performance of BGI in combination with grey infrastructure, under climate change, or in informal settlements is poorly studied. Future research and practice should focus on producing and sharing empirical data, ultimately increasing the regional knowledge base to promote efficient BGI strategies.
Supplementary information
Publisher's note
Springer Nature remains neutral with regard to jurisdictional claims in published maps and institutional affiliations.
Introduction
In the next sections, we describe the characteristics of Southeast Asian countries ('Southeast Asian Ecological and Socio-technical Context') and our methodological framework to review the regional literature ('Methods'). We then organize our findings and discussion according to the three questions above, namely geographic distribution and types of BGI found in the literature, hydrologic performance of BGI and design and implementation factors. By contrasting our findings with the global literature, we conclude with a summary of research gaps and future research directions in the region ('Key Knowledge Gaps').
Southeast Asian Ecological and Socio-technical Context
Several ecological and environmental features distinguish Southeast Asia from most global North countries. First, the climate—tropical rainforest or tropical monsoon (Beck et al.
2018
)—is hot and humid, with high annual precipitation and frequent intense events. This has implications for BGI as more water storage capacity is needed to manage water (Eckart et al.
2017
), whether it is for flood control or water quality management. For example, the intensity of a 1-h storm occurring every 2 years in Singapore is equivalent to a storm occurring every 100 years in New York (Cornell University
2015
; Public Utilities Board Singapore
2013
). It makes the area particularly prone to flood hazards, with Thailand, Cambodia, Vietnam and the Philippines being among the most flood-impacted populations around the world (Hu et al.
2018
). Climate change will also exacerbate these trends (e.g. Kefi et al.
2018
; Wang et al.
2017
). Second, Southeast Asia comprises tropical and subtropical rainforest, dry forest and monsoon forest, species that are understudied in the global literature (Song et al.
2017
). Most Southeast Asian trees are evergreen, with only a few deciduous species found in the dry forests (e.g. in Myanmar), resulting in little seasonal variation in ecological functions other than due to climate. Third, Southeast Asian soils generally have high clay contents and medium to low permeability (Acrisol–Alisol types, Chappell et al.
2007
). Although this suggests that forests may be less effective at retaining water, the large swaths of forests with highly porous topsoil still provide high drainage rates—making them important to protect for water security (Estoque et al.
2019
). A final important characteristic of the Southeast Asian landscapes is the presence of large river deltas, including the Mekong, the Irrawaddy and the Chao Phraya deltas, which all comprise large wetland areas. The flat topography of these regions exposes urban and rural settlements to frequent flooding (e.g. Siripong et al.
2000
).
From a socio-technological standpoint, Southeast Asian cities range broadly in population density, gross domestic product per capita and governance efficiency (Table
S1
, Supplementary Information and Lourdes et al.
2021
). These characteristics influence the range of BGI that are possible to implement, based on cost and space requirements, among others. Weak urban governance means that official plans are rarely implemented, with market forces rather driving what is built on the ground (Yap
2018
). The resulting 'tetris-like' urban sprawl, described by some scholars in China and Southeast Asia (Hedglin
2015
; Yap
2018
), is at odds with integrated urban water management, which requires finding synergies and complementarities in various components of the water system (Liu and Jensen
2018
). In fact, few Southeast Asian cities have an integrated urban water management plan and sanitation remains very low in most countries (Rahmasary et al.
2019
). Apart from Singapore and Malaysia, Southeast Asian countries have a low sewerage cover with on average 17.3% of urban dwellers being connected to a sanitation sewer network (World Health Organisation and UNICEF
2017
, see Table
S1
for national statistics). Cities rarely have separate stormwater and sanitary sewer systems, with the notable exception of Singapore and, to a lesser extent, cities in Malaysia, Brunei and Vietnam. Most cities include open canals that drain both stormwater and wastewater, often to the nearest river—making water purification an essential service to remove pollution. Subsidence due to groundwater pumping exacerbates flooding issues, as it has been demonstrated in Jakarta, Bangkok or Ho Chi Minh City (Erkens et al.
2015
). BGI that increases infiltration may mitigate this issue, while also replenishing groundwater resources for consumption.
Finally, Southeast Asian cities are characterized by high levels of informality. Informal settlements are defined as urban areas developed outside the legal systems and lacking 'risk-reducing infrastructure (paved roads, storm and surface drainage, piped water, etc.) and services relevant to resilience (including healthcare, emergency services and rules of law)' (Satterthwaite et al.
2020
). More than 370 million people live in informal settlements in Southeastern and Eastern Asian cities, making up to 50% of the urban population in some countries (Table
S1
). These settlements are particularly vulnerable to hydrologic hazards due to the lack of infrastructure and proximity to water bodies. In many cities, informal dwellers both impact and rely on services related to rivers (Vollmer and Grêt-Regamey
2013
), making them important actors of river management. The uncontrolled growth of informal settlements may exacerbate water management issues by reducing ecosystem services such as water purification and water retention (Harriden
2012
). Inexistent or limited waste collection and sanitation services also severely impacts water quality.
Methods
Results
We compiled a list of 109 peer-reviewed papers (full list in Supplementary Information). Of the peer-reviewed papers, 51 addressed stormwater management, including 39 on stormwater quantity and 20 on quality, 42 papers addressed wastewater management, and 20 addressed riverine flooding. In addition to the scientific literature, we listed 27 guidance documents in the 'grey' literature that represent an important source of information on BGI potential and implementation. For example, the Asian Development Bank's (
2016
) case studies on Nature-Based Solutions for Building Resilience in Towns and Cities detail the applicability of different types of BGI in the Greater Mekong subregion, including specific benefits and caution notes. Singapore's ABC Waters Programme and the Australia-Indonesia Centre produced useful guidelines and detailed case studies (Payne et al.
2019
; Public Utilities Board Singapore
2018
). Technical and strategy reports also provide useful local lessons on BGI adoption for consideration in other Southeast Asian countries. The full list in Supplementary information also comprises international guidelines applicable to the region (Browder et al.
2019
; Colgan et al.
2017
; World Bank
2016
; World Wildlife Fund
2016
).
Types of BGI and Geographic Distribution of the Peer-reviewed Literature
We found references to the four main categories of BGI described in Table
1
in the peer-reviewed literature. Engineered stormwater systems were the most-studied BGI (
n
 = 53), closely followed by wetlands (
n
 = 45, including a majority of constructed wetlands), watershed management features (
n
 = 19) and urban green cover (
n
 = 16). Examples of regional implementations suggest that some types of BGI are specific to the region and therefore rarely found in the global North literature. These include some agricultural features (rice paddies), or architectural idiosyncrasies (
telajakans
in Bali, Indonesia, Table
1
).
High- and upper-middle-income countries generally have the highest number of peer-reviewed publications (Fig.
2
), and no publications were found for Timor Leste and Lao PDR. We found the highest number of publications related to flood management in Indonesia and Singapore (
n
 = 25). Nearly half (
n
 = 17) of the peer-reviewed publications on wastewater management were from Thailand, with most of them citing the need for wastewater management in cities affected by tourism.
×
Hydrologic Performance
Design and Implementation Factors for BGI
Discussion
Conclusions
In summary, there is evidence of uptake of the concept of BGI for urban water management in research and practice in most countries. With a systematic search focusing on hydrologic performance, we found 109 papers, which should be seen as a lower bar for estimating the total amount of the evidence in the region. These scientific publications also map a network of research institutes, which actively create new knowledge in the region.
Our review confirms that the general principles behind BGI performance apply to Southeast Asian ecological context (climate, vegetation), meaning that there are no technical barriers to using BGI in integrated urban water management in the region. However, there is limited information to design new projects, in part due to a limited amount of empirical data in the region (a majority of studies used models without empirical data or were laboratory studies or prototypes). Factors that need particular attention from a design perspective include climate change, long-term maintenance, combination with grey infrastructure and considerations of BGI that are not studied in the North (e.g. rice paddies) or that are adequate in informal settlements (due to limited space, built infrastructure, or financial resources). We propose directions for research including short- and long-term monitoring programmes, and increasing collaborations with practitioners and ecosystem services scientists, to realize the potential of BGI in the region.
Given the ecological similarities within countries, there are ample opportunities for knowledge transfer within the region. This transfer can take the form of peer-reviewed publications, grey literature (e.g. the ABC Waters programme guidelines or the recent work from the Australia-Indonesia Centre, Payne et al.
2019
), conferences and also educational programmes. Similar to international research programmes in the European Union or the United States, coordinated research could significantly increase the body of evidence by leveraging existing efforts and accelerate the mainstreaming of BGI in urban water management in the region.
Supplementary information
Acknowledgements
We thank Kim Irvine and three anonymous reviewers for their precious comments on this manuscript.
Compliance with Ethical Standards
Conflict of Interest
The authors declare no competing interests.
Open Access
This article is licensed under a Creative Commons Attribution 4.0 International License, which permits use, sharing, adaptation, distribution and reproduction in any medium or format, as long as you give appropriate credit to the original author(s) and the source, provide a link to the Creative Commons license, and indicate if changes were made. The images or other third party material in this article are included in the article's Creative Commons license, unless indicated otherwise in a credit line to the material. If material is not included in the article's Creative Commons license and your intended use is not permitted by statutory regulation or exceeds the permitted use, you will need to obtain permission directly from the copyright holder. To view a copy of this license, visit
http://​creativecommons.​org/​licenses/​by/​4.​0/​
.
Publisher's note
Springer Nature remains neutral with regard to jurisdictional claims in published maps and institutional affiliations.