2020 | OriginalPaper | Buchkapitel
13.
Brooklyn

and the Other Side of the Ocean: The International and Transnational in Irish Cinema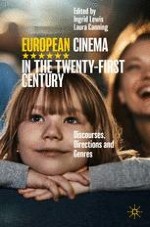 Erstes Kapitel lesen
Autoren: Maria O'Brien, Laura Canning
Abstract
O'Brien and Canning examine how Irish film production illustrates the complexities and paradoxes around producing meaning-making cultural products within a national setting, while operating simultaneously within a globalised industry. They situate the emergence of the twenty-first-century Irish film industry against the competing dynamics of free-market funding and implied 'cultural value' frameworks, and demonstrate how the dialectical relationship between them produces Irish film which speaks both nationally and transnationally. This 'internationalised' Irish film includes the work of Irish-born (Lenny Abrahamson) and diasporic Irish (John Michael McDonagh) filmmakers. The authors take
Brooklyn
(John Crowley 2015) as the central case study and frame it as an example of glocalisation (Robertson,
The Journal of International Communication
18:191–208, 2012), interrogating America as well as Ireland.