2016 | OriginalPaper | Buchkapitel
8. Classification Models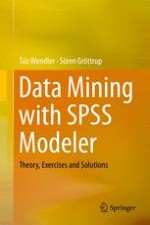 Erstes Kapitel lesen
Autoren: Tilo Wendler, Sören Gröttrup
Abstract
One of the main problems often occurs in data analytics is assigning a category to each data record. These kinds of problems are very common in all kinds of areas and fields, such as Economics, Medicine, and Computer Science. For example, one classical use case in the online marketing sector is to decide if a customer should get a certain e-mail promotion, as he or she is likely to respond to it. Classification models are the mathematical tool to face these problems. In this chapter, we introduce the most famous classification methods, which are provided by the IBM SPSS Modeler. We explain how these classifiers are trained and validated with the IBM SPSS Modeler and describe their usage and interpretation on data examples.
After finishing this chapter, the reader …
1.
is familiar with the most challenges when dealing with a classification problem and knows how to handles them.
2.
possesses a large toolbox of different classification methods and knows their advantages and disadvantages.
3.
is able to build various classification models with the SPSS Modeler and is able to apply it to new data for prediction.
knows various validation methods and criteria and can evaluate the quality of the trained classification models within the SPSS Modeler stream.