2010 | OriginalPaper | Buchkapitel
4. Committees and Lobby Coalition Formation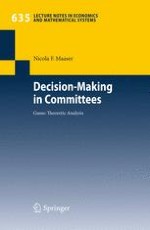 Erstes Kapitel lesen
Autor: Dr. Nicola F. Maaser
Verlag: Springer Berlin Heidelberg
Abstract
This chapter finally descends from the heights of constitutional design to the domain of 'ordinary' politics: It analyzes a situation where lobbyists seek to influence decision-making in a legislature (or legislative committee) by offering payments to its members. While Chap. 1 has asked "who gets what" with respect to committee members themselves, Chaps. 2 and 3 have studied individual citizens' 'derivative' influence on decisions in a committee of representatives. The present chapter considers the question how much clout lobbyists have with a legislative committee.
Lobbyists are assumed to share common interests with respect to the political outcome, whereby lobbying efforts become a public good for them, and incentives to free-ride arise. Each lobbyist prefers someone else to contribute so that he may enjoy the benefits from a more favorable political decision without incurring the costs of bringing it about. Although increasing returns to sharing these costs exist, which would imply the formation of a 'grand coalition' of lobbyists, "The Logic of Collective Action" (Olson,
1965
) suggests that, in the absence of enforceable agreements, (rational) individual lobbyists cannot be expected to act on group interest, that is, to provide an efficient level of lobbying efforts. At the same time, in the real world, lobbyists often seem able to organize themselves in order to obtain changes in legislation or regulation.