2020 | OriginalPaper | Buchkapitel
Computer Simulation of a Saline Enhanced Radio-Frequency Hepatic Ablation Process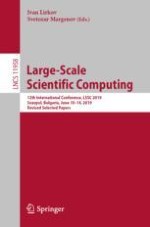 Erstes Kapitel lesen
Autoren: Yavor Vutov, Daniel Nikolov, Ivan Lirkov, Krassimir Georgiev
Abstract
We consider the simulation of thermal and electrical processes, involved in a radio-frequency ablation procedure. Radio-frequency ablation is a low invasive technique for treatment of hepatic tumors, utilizing AC current to destroy unwanted tissues by heating. We simulate an ablation procedure where the needle is bipolar, i.e. no ground pad is attached. Saline solution is injected through the needle during the procedure, creating a cloud around the tip with higher electrical conductivity. This approach is safer for some patients.
The mathematical model consists of three parts—dynamical, electrical, and thermal. The energy from the applied AC voltage is determined by solving the Laplace equation to find the potential distribution. After that, the electric field intensity and the current density are directly calculated. Finally, the heat transfer equation is solved to determine the temperature distribution.
A 3D image of the patient's liver is obtained from a magnetic resonance imaging scan. Then, the geometry for the needle is added. The CGAL library is used to obtain an unstructured mesh in the computational domain. We use the finite element method in space, to obtain both the current density and the created temperature field. An unstructured mesh parallel solver is developed for the considered problem. The parallelization approach is based on partitioning the meshes using ParMETIS. Numerical tests show good performance of the developed parallel solver.