01.04.2019 | Original Article | Ausgabe 1/2019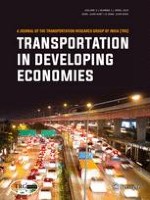 Controllability and Observability Analysis for Intelligent Transportation Systems
Zeitschrift:
Autoren:

Shaurya Agarwal, Pushkin Kachroo
Abstract
In this paper, we present a novel methodology for analyzing the controllability problem on a freeway traffic network. The new framework investigates controllability in terms of flow information on arcs and the routing information. Macroscopic ODE-based traffic model is used to develop
\((\rho )\)
dynamics on a network arc which is then combined with another ODE model of the routing
\((\pi )\)
dynamics. Thus, obtained network dynamics is then linearized about the steady-state flows to establish a linear time invariant (LTI) dynamics. Controllability test for LTI systems is then used to test controllability of the system. Methodology is first tested on a few sample networks and then more general results are obtained. An alternate analysis for controllability problem is also presented by treating the problem as a dual of observability problem.