01.12.2013 | Ausgabe 23/2013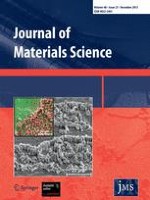 Copper-oxide whisker growth on tin–copper alloy coatings caused by the corrosion of Cu6Sn5 intermetallics
Zeitschrift:
Autoren:

Barbara Horváth, Balázs Illés, Tadashi Shinohara, Gábor Harsányi
Abstract
This paper reports the effect of corrosion caused by high temperature and humidity on pure tin and tin–copper alloy coatings. A new phenomenon was observed; the development of copper-oxide whiskers on tin–copper alloys plated on copper substrates (1–5 % copper content stored at 105 °C/100 % relative humidity). The copper-oxide whiskers showed similar growth properties to tin whiskers. We have made a model to understand the development of copper-oxide whiskers. Localized corrosion of the tin coating reaches the Cu
6
Sn
5
intermetallic layer, and copper oxide accumulates after the corrosion of Cu
6
Sn
5
. The dilating SnO
x
compresses and extrudes out the copper oxide in a whisker form.