08.05.2019 | Ausgabe 5/2019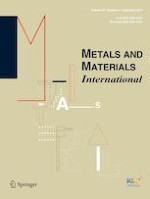 Correlation Study Between Material Parameters and Mechanical Properties of Iron–Carbon Compacts Using Sensitivity Analysis and Regression Model
Zeitschrift:
Autoren:

Da Seul Shin, Suk Hyun Kim, Joo Won Oh, Im Doo Jung, Woo Seok Yang, Chi Hun Lee, Hyeok Joon Kwon, Jin Mo Koo, Seong Jin Park
Wichtige Hinweise
Publisher's Note
Springer Nature remains neutral with regard to jurisdictional claims in published maps and institutional affiliations.
Abstract
Changing the material parameters such as powder characteristics and additives affects the final properties of an iron–carbon alloy. This study investigated the influences of three typical material parameters, iron particle size, graphite addition, and powder lubricant addition, on the density and mechanical properties of an iron–carbon alloy formed via powder compaction and sintering. Each material parameter was designed with five levels, and all of the powder mixtures were compacted under 500 MPa and sintered at 1120 °C for 30 min. The microstructure of the samples was observed for the green part and sintered part. Through the tensile test, yield strength, ultimate tensile strength, and elongation were measured. The tensile fracture surface was also examined to understand the changes in mechanical properties according to the parameters. The correlations between mechanical properties and material parameters were characterized by the mapping functions, and a sensitivity analysis was carried out to investigate which parameter had the larger influence on the mechanical properties. The results showed that graphite addition has the greatest influence on the mechanical properties due to the microstructural changes from hypoeutectoid structure to hypereutectoid structure. Further, a regression model was developed to describe the mechanical response of the iron–carbon alloy depending on the material conditions.