Erschienen in: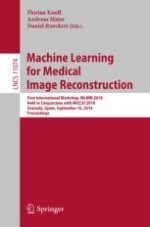 2018 | OriginalPaper | Buchkapitel
Deep Learning Super-Resolution Enables Rapid Simultaneous Morphological and Quantitative Magnetic Resonance Imaging
Abstract
Obtaining magnetic resonance images (MRI) with high resolution and generating quantitative image-based biomarkers for assessing tissue biochemistry is crucial in clinical and research applications. However, acquiring quantitative biomarkers requires high signal-to-noise ratio (SNR), which is at odds with high-resolution in MRI, especially in a single rapid sequence. In this paper, we demonstrate how super-resolution (SR) can be utilized to maintain adequate SNR for accurate quantification of the T
\(_2\)
relaxation time biomarker, while simultaneously generating high-resolution images. We compare the efficacy of resolution enhancement using metrics such as peak SNR and structural similarity. We assess accuracy of cartilage T
\(_2\)
relaxation times by comparing against a standard reference method. Our evaluation suggests that SR can successfully maintain high-resolution and generate accurate biomarkers for accelerating MRI scans and enhancing the value of clinical and research MRI.