29.09.2018 | Original Article | Ausgabe 4/2018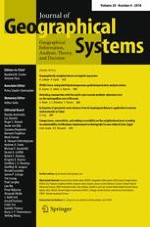 Detecting communities with the multi-scale Louvain method: robustness test on the metropolitan area of Brussels
Zeitschrift:
Autoren:

Arnaud Adam, Jean-Charles Delvenne, Isabelle Thomas
Abstract
Detecting communities in large networks has become a common practice in socio-spatial analyses and has led to the development of numerous dedicated mathematical algorithms. Nowadays, however, researchers face a deluge of data and algorithms, and great care must be taken regarding methodological questions such as the values of the parameters and the geographical characteristics of the data. We aim here at testing the sensitivity of multi-scale modularity optimized by the Louvain method to the value of the resolution parameter (introduced by Reichardt and Bornholdt (Phys Rev Lett 93(21):218701,
2004
.
https://​doi.​org/​10.​1103/​PhysRevLett.​93.​218701
) and controlling the size of the communities) and to a number of spatial issues such as the inclusion of internal loops and the delineation of the study area. We compare the community structures with those found by another well-known community detection algorithm (Infomap), and we further interpret the final results in terms of urban geography. Sensitivity analyses are conducted for commuting movements in and around Brussels. Results reveal slight effects of spatial issues (inclusion of the internal loops, definition of the study area) on the partition into job basins, while the resolution parameter plays a major role in the final results and their interpretation in terms of urban geography. Community detection methods seem to reveal a surprisingly strong spatial effect of commuting patterns: Similar partitions are obtained with different methods. This paper highlights the advantages and sensitivities of the multi-scale Louvain method and more particularly of defining communities of places. Despite these sensitivities, the method proves to be a valuable tool for geographers and planners.