28.10.2020 | MEASUREMENTS IN INFORMATION TECHNOLOGIES | Ausgabe 6/2020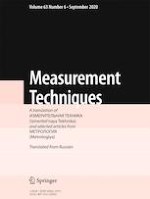 Development of Technologies for Reducing the Error of Traditional Algorithms of Correlation Analysis of Noisy Signals
Zeitschrift:
Autoren:

T. A. Aliev, N. F. Musaeva, N. E. Rzayeva, A. I. Mammadova
Wichtige Hinweise
Translated from Izmeritel'naya Tekhnika, No. 6, pp. 9–16, June, 2020.
The factors that have an effect on estimation errors of the correlation functions of noisy signals in using traditional algorithms to evaluate them are analyzed. It is shown that the sum noise of a noisy signal is caused by the influence of external factors and by noise which originates due to various imperfections in the operation of objects under test. In order to eliminate the error of the results of correlation analysis of noisy signals, algorithms and techniques for determining estimates of the variance of noise and the mutually correlated functions between the useful signal and a noise have been created. Techniques for determining approximate equivalent readings of the noise of noisy signals are proposed. It is shown that in using equivalent samples of noises, it is possible to obtain results identical to the results of actual samples of noises in the correlation analysis of noisy signals. In selecting equivalent samples of noise from a noisy signal, equivalent samples of the useful signal are defined. These samples make it possible to determine estimates that are equivalent to the estimates of correlation functions of the useful signal. Estimates of mutually correlated functions between the useful signal and noise have been found. Studies have shown that despite existing errors of equivalent samples, over a sufficiently long observation period it is possible to reduce significantly the errors of traditional techniques of correlation analysis of noisy signals with equivalent samples. The application of these techniques can be used to correct errors of the results of analysis of test data in information-measurement complexes and systems, which enhances significantly their metrological characteristics.