2016 | OriginalPaper | Buchkapitel
1. Do Most Americans Believe in Redemption?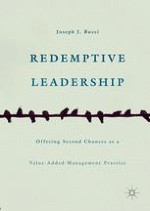 Autor: DBA Joseph J. Bucci
Abstract
What would your reaction be to working alongside someone who has publicly displayed a major flaw in character? What if this had occurred in the most recent past, but this person was being given another opportunity? Could you remove yourself from that person's errors in judgment and work alongside of them and not be critical? This chapter begins with a story about a notable person receiving redemption. The chapter discusses whether Americans believe in redemption and how redemption as a religious term has also equated to a process in the American experience of persons being given a second chance. Foundational material from both religious and historical sources is used to argue that redemption is a familiar experience to most Americans.