2016 | OriginalPaper | Buchkapitel
Driving Performance with Programmatic CRM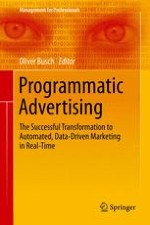 Erstes Kapitel lesen
Autor: Florian Heinemann
Abstract
So far, the systematic scaling of the acquisition of new customers via programmatic advertising has turned out to be associated with considerable difficulties. The main reason is a shortfall in terms of quantity and quality of available data and its limited predictive power regarding actual performance. In addition, accessing and using data in most cases have proven to be rather complex.
Aside from these difficulties, large players such as Google, Facebook, Amazon, Apple, and Alibaba have developed into platforms combining (a) large reach (b) high login frequency, and (c) great depth of data per user across different devices. Due to these factors, these "high/deep reach login platforms" continue to gain importance and lead to an increasingly transparent advertising landscape. Initially, this may appear to be a positive development for advertisers, since all relevant users can be reached via just a few platforms with great targeting precision. Medium to long-term, however, this can impair their position, since it becomes increasingly difficult for advertisers to differentiate themselves from others and maintain a competitive advantage based on the sophistication of their advertising activity. The problems arising for publishers and especially media agencies regarding this development are even more severe. But that will be covered only as a side issue in this article.
Using proprietary customer relationship management (CRM) data of the advertiser in conjunction with programmatic advertising appears to be one approach to mitigate the shift of power away from advertisers to the "high/deep reach login platforms". And there is still a lot of unused potential to be systematically exploited in this area. In addition, the impact of this approach can be expanded and made more scalable by using CRM data to reach potential "upper funnel" customers via "lookalike" techniques.
To make systematic use of programmatic CRM in a coordinated approach of addressing customers, the underlying (a) logic/concept and (b) technical infrastructure have to be well designed so that existing customers and potential customers can be addressed in a structured way and across multiple channels/platforms. In order to implement integrated multi-channel/platform marketing, models based on individual user behavior are required to determine – among other factors – (a) what message (b) when (c) how/in which format (d) at which frequency (e) on which platform/channel, and (f) at what price should be placed in order to achieve optimal results. Furthermore, data collection, aggregation, and activation/usage need to be integrated into one comprehensive infrastructure.