31.10.2016 | Research Article | Ausgabe 1/2017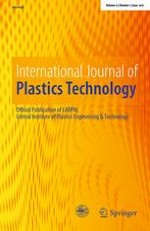 Effect of treatment of TiO2 on thermal decomposition kinetics of wood: PVC microcellular composites
Zeitschrift:
Autoren:

Satyendra Mishra, Jagmohan Verma
Abstract
The PVC and acacia wood flour, varied from 10 to 30 wt% with and without treatment of titanate, microcellular composites were studied for thermal degradation by the TGA in nitrogen atmosphere. Thermal stability of the composites decreased with increase in percentage of wood flour. The titanate treated microcellular composites showed less activation energy (161 and 185 kJ mol
−1
for 10 and 30 wt%) than that of untreated one (199 and 169 kJ mol
−1
), which is due to the weak bond formation between wood flour and titanate coupling agents. The isothermal degradation and thermodynamic parameters were also studied of the composites and found that the value of entropy change (Δ
S
) and enthalpy change (Δ
H
) increased with increase in wt% of with and without titanate treated filler in the composites. The values of Δ
H
were recorded as 365 and 446 kJ mol
−1
for 10 and 30 wt% titanate treated filler composites, which are less than the respective untreated composites. The value of Δ
G
o
decreased as the filler content increased from 10 to 30 wt% filler loading, However the titanate treatment resulted an increase in Δ
G
o
in comparison to untreated composites. Thus thermodynamic parameters indicated that TiO
2
treatment enhances the thermal decomposition of the wood: PVC flour composites, which is due to the generation of hole at the TiO
2
/polymer composite interface to create radicals in the composite, which further propagate to rupture the chemical bonds of the composite chains.