01.03.2015 | Original Article | Ausgabe 5/2015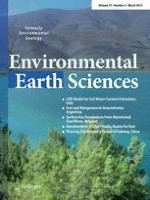 Effects of DEM grid size on predicting soil loss from small watersheds in China
Zeitschrift:
Autoren:

Suhua Fu, Longxi Cao, Baoyuan Liu, Zhiping Wu, Mohammad Reza Savabi
Abstract
The topography (slope gradient and slope length) has an important effect on soil erosion by water. Slope gradient and slope length factor are the parameters of the universal soil loss equation that is commonly used to predict soil erosion. These factors are usually extracted from the digital elevation model (DEM). Thus the DEM grid size will influence topographic factors and therefore soil loss calculation. The purpose of this study was to investigate the effect of DEM grid size on the topographic factors and therefore soil loss prediction on a typical watershed in northeast of China. The site for the case study was Dontaigou watershed which is located at Huairou district, Beijing, China. Contour lines of 2 m interval digitized from 1:2,000 scale of topographic maps were used to generate DEM with grid size of 2 m. The DEMs with grid sizes of 3–30 m, at 1 m intervals, were created using the nearest neighbor resampling method. In total, 29 DEMs with different grid sizes were obtained. Four different scenarios of the channel initiation threshold were used to extract the drainage channel and let the slope length cutoff. Chinese soil loss equation was used to predict the soil loss. The results show that DEM grid size had different effects on the topographic factor. The average calculated slope steepness factor decreased with the increase of the DEM grid size in a linear decay function. The average slope length factor increased with DEM grid size when the drainage channel was not considered. It slightly decreased with DEM grid size and then increased when the drainage channel suitable for DEM grid size was used. However, comparing different grid sizes, the
LS
factor and the soil loss prediction of DEM grid size less than or equal to 10 m were close to those of 2 m DEM. The channel initiation threshold had effects on the extraction of slope length and then slope length factor. We found that the effect of DEM grid size on predicting soil loss depends on selection of suitable channel initiation threshold.